Our Story
Unscript'd Boutique is the place where you get rid of your uncertainty, fear, and self-doubt to embrace your true unapologetic inner self.

Our company was founded by Mary Allen in June 2020 to give people from the plus-size community the voice and opportunity to express themselves through clothes.
At Unscript'd Boutique, we believe it is time to be okay and comfortable with how God made you. That's why we help our customers to be authentic and dress to match their true-self.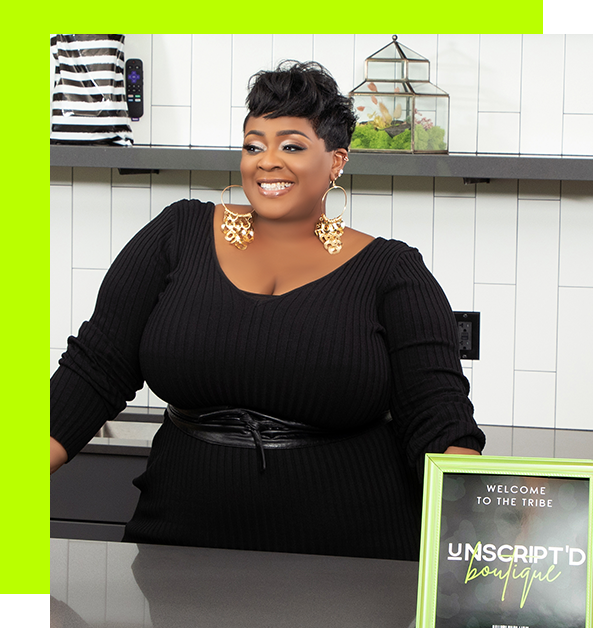 How it started...
From a very young age, Mary was taught by her mother never to let the feeling of inadequacy, low self-esteem, and the pressure to fit in weigh her down. She grew up knowing that even though words can hurt, you should never let them bring you down.

As a plus-size woman, Mary was challenged with finding the right clothes that fit her curves properly. Everything was either too big, too tight, or just not enough. That's why she started Unscript'd Boutique to bring beautiful clothes to gorgeous, curvy, plus size women.

We believe everyone has the right to be themselves. So, why copy someone else's style when you can express yourself in an original, sorry-not-sorry style?

Everything in our Boutique is carefully handpicked and scrutinized to ensure they fit our customers' needs and bring out their moods and feelings without compromising their identity.

At Unscript'd Boutique, we don't sell clothes to customers. Instead, we only sell garments that will flatter your shape and do your curves justice.

We are here to help women boost their confidence and change the way they view themselves. It's okay to be insecure about your hips, leg, thighs, and arms.

We understand how you are feeling, and we've been there before. But, it's not okay to let these insecurities bring you down. That's why we bring quality, trendy, and fashionable clothes to allow you to express yourself as you've never before.

Bring out your beautiful inner self every day through modern clothes that cater to your curvy needs.
Unscript'd Boutique: Fiere, unapologetic, trendy, and classy styles for all women.